The 2018 Educators' Delegation to China Program furthered the Institute's mission to foster cross-cultural understanding between eye care professionals in the United States and China.
The Confucius Institute for Healthcare at SUNY Optometry is a joint project of the College, Wenzhou Medical University and the Chinese Ministry of Education via the Confucius Institute Headquarters, which is also known as Hanban. From providing classes on Tai Chi and Chinese languages to sponsoring health care-focused events and hosting Chinese delegations on campus, the Institute works to foster cross-cultural understanding between the United States and China.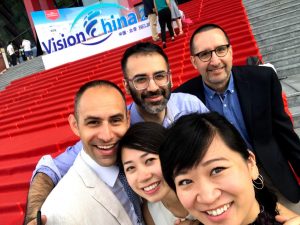 To that end, the Institute and its partners sponsored the 2018 Educators' Delegation to China Program on July 22-29. Nine members of the College faculty and staff were joined by practitioners from the New England College of Optometry, Illinois College of Optometry and the Pacific University College of Optometry. While in China, they toured Wenzhou Medical College and its affiliated eye hospitals, attended the Vision China conference in Beijing and immersed themselves in Chinese culture, including participating in a traditional tea ceremony, visiting the Wenzhou Museum and The Forbidden City and spending a day at The Great Wall.
It's an experience that Dr. Guilherme Albieri—director of the Institute, vice president for student affairs and chief diversity officer for the College—says was important to the future of eye care.
"It's important for our faculty, staff and students to gain an appreciation of the different types of eye care delivery models around the world—China in particular, as its needs are huge, and the country has been quite adaptive in its response," he explains. "With that additional knowledge, we can critically and comparatively assess our own strengths and weaknesses and be more tuned to opportunities. From a cultural and historical perspective, China is increasingly becoming more influential, and programs like this help us gain a deeper appreciation for the values and assumptions that drive its growth."
Dr. Jennifer Hue, an assistant clinical professor with the College, says the trip was incredible both professionally and personally. "The most engaging part of the trip was seeing the magnitude of patients that each doctor sees daily at The First Affiliated Eye Hospital in Wenzhou. I think all of our SUNY Optometry staff, and faculty from the other participating optometry schools, were impressed by this," she says. "I was also charmed by the natural beauty and the historic Buddhist temple during our hike through the Yandang Mountains."
Dr. Albieri says the Institute is currently planning a trip for students to travel China, and hopes to curate another faculty trip in the near future.
Dr. Hue hopes others will take advantage of the opportunity. "Exploring a culture and country that is so different from our own with colleagues new and familiar was the experience of a lifetime. I was amazed at the immediacy with which we bonded with each other and the generous hospitality from our colleagues in China," she says. "No matter what our backgrounds are or where we're from, we can connect based on our underlying passion to improve eye care practice and education."
[slider_image image_1="20340,large" image_2="20333,large" image_3="20337,large" image_4="20338,large" image_5="20341,large" image_6="20342,large" image_7="20343,large" image_8="20345,large" image_9="20346,large" height="600″]